Posts for tag: dentures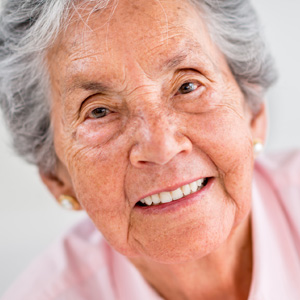 For people with edentulism (total loss of teeth), removable dentures is a viable option for regaining both lost function and an attractive appearance. From the moment they begin wearing them, denture wearers can chew food, speak and smile with confidence.
But there are downsides to dentures, especially if they're not cared for properly. Dentures put pressure on the gums and bony ridges of the jaw, which can cause bone to dissolve (resorb) and decrease its volume over time. Without proper maintenance they can also become a breeding ground for bacteria and fungi that not only lead to bad breath but, in cases of partial dentures, can increase the risk of dental disease. They could also contribute to serious systemic diseases.
You can reduce some of these risks by following these 3 important denture maintenance tips. Doing so will help extend the life of your dentures, as well as keep your mouth healthy.
Clean your dentures at least once a day. In addition to taking your dentures out and rinsing them with water after eating, you should also brush them daily with dish detergent, antibacterial soap or denture cleaner — but not toothpaste, which is too abrasive. Effervescent (fizzing) cleaning tablets also aren't a viable substitute for manual brushing in removing disease-causing plaque from denture surfaces.
Take your dentures out at night while you sleep. Wearing dentures 24/7 can hasten bone loss, as well as increase your chances of dental disease or even more serious illnesses. A recent study, for example, found nursing home patients who left their dentures in at night were twice as likely to experience serious complications from pneumonia as those who didn't. While you sleep, store your dentures in water or in a solution of alkaline peroxide made for this purpose.
Brush your gums and tongue every day. Keeping your gum surfaces clean will help reduce the levels of bacteria and other microbes that can cause disease. You can either use an extra-soft tooth brush (not the one you use to clean your dentures) or a damp washcloth.
If you would like more information on caring for dentures, please contact us or schedule an appointment for a consultation.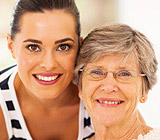 Americans today can expect to have a longer lifespan than ever before. And, as our population ages, our concern is no longer just longevity… it becomes, in addition, the quality of life. These days, the task of helping an older person — perhaps a parent, relative, or friend — to maintain a good quality of life often falls to adult children or others in the extended family. These caregivers have a crucial role in deciding how best to provide for an older person's care.
Eating a healthful diet, getting moderate exercise and having an invigorating social life are factors that can improve quality of life for a person of any age. But we would propose adding one more item: keeping a healthy smile. By age 74, about one in four people have lost all of their permanent teeth. Many more have failing teeth, or only a few teeth remaining. According to actuarial tables, these folks can expect to live, on average, to age 86 — and some will live much longer. That's a long time to go without good replacement teeth.
The Old School: Bridges and Dentures
What's the best method of tooth replacement? The answer depends on several factors. If just a small number of teeth are missing, the best options available are a fixed bridge (also called a fixed partial denture) or a dental implant. If most or all teeth are failing or lost, either complete or partial removable dentures, or implants, may be considered. We'll come back to implants later, but let's look at other methods first.
The dental bridge is a traditional method of closing a gap in your smile — but it has some drawbacks. It requires crowning or "capping" healthy teeth on either side of the gap, so they can be used to anchor a series of prosthetic teeth. This means a significant amount of tooth material must be removed from "good" teeth, which may leave them more susceptible to decay. Root canal treatment may also be required. A bridge can make gum disease more likely, and it is generally expected to need replacement in about ten years.
Removable dentures, both complete and partial, have been around even longer than bridges — in fact, they go back centuries. Denture problems, too, are legendary: They include problems with chewing and speaking, unpleasant smells and tastes, the inability to eat many favorite foods, and the tendency of dentures to become loose and ill-fitting over time. Many of these problems force a person to make compromises in their lifestyle; the last one, however, points to a serious flaw with dentures.
When teeth are lost, the underlying bone in the jaw begins to be resorbed (melted away) by the body's natural processes. This causes the jawbone to become weaker — and, as support for the facial features is lost, it can result in the appearance of premature aging. Dentures don't stop bone loss, in fact, they accelerate it. When dentures stop fitting properly, it's evidence of the process of bone loss at work.
A Modern Solution: Dental Implants
There's a great way to stop bone loss and restore teeth to full function: the dental implant. Whether it's a single tooth or an entire set of teeth that are missing, dental implants are the new gold standard for tooth replacement. Because of the way they become fused with the living bone tissue of the jaw, implants stop bone loss form occurring. They "feel" and function like natural teeth — and they can be almost impossible to tell from the real thing.
A single missing tooth can be replaced by one dental implant, where a bridge would require a minimum of three prosthetic teeth (one for the missing tooth, and two for the supports). On the other hand, an entire arch (top or bottom row) of replacement teeth can be anchored by just four to six implants. And, with regular care, implants can last a lifetime.
So if you're helping someone choose between different methods of tooth replacement, be sure to consider the advantages of dental implants. It's an investment in quality — both the quality of the implant itself, and the enhanced quality of life it provides. If you would like more information, or wish to schedule a consultation, please call our office. You can learn more in the Dear Doctor magazine articles "Dental Implants" and "Removable Full Dentures."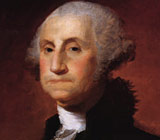 Everyone knows that George Washington wore false teeth. Quick, now, what were our first President's dentures made of?
Did you say wood? Along with the cherry tree, that's one of the most persistent myths about the father of our country. In fact, Washington had several sets of dentures — made of gold, hippopotamus tusk, and animal teeth, among other things — but none of them were made of wood.
Washington's dental troubles were well documented, and likely caused some discomfort through much of his life. He began losing teeth at the age of 22, and had only one natural tooth remaining when he took office. (He lost that one before finishing his first term.) Portraits painted several years apart show scars on his cheeks and a decreasing distance between his nose and chin, indicating persistent dental problems.
Dentistry has come a long way in the two-and-a-half centuries since Washington began losing his teeth. Yet edentulism — the complete loss of all permanent teeth — remains a major public health issue. Did you know that 26% of U.S. adults between 65 and 74 years of age have no natural teeth remaining?
Tooth loss leads to loss of the underlying bone in the jaw, making a person seem older and more severe-looking (just look at those later portraits of Washington). But the problems associated with lost teeth aren't limited to cosmetic flaws. Individuals lacking teeth sometimes have trouble getting adequate nutrition, and may be at increased risk for systemic health disorders.
Fortunately, modern dentistry offers a number of ways that the problem of tooth loss can be overcome. One of the most common is still — you guessed it — removable dentures. Prosthetic teeth that are well-designed and properly fitted offer an attractive and practical replacement when the natural teeth can't be saved. Working together with you, our office can provide a set of dentures that feel, fit, and function normally — and look great too.
There are also some state-of-the art methods that can make wearing dentures an even better experience. For example, to increase stability and comfort, the whole lower denture can be supported with just two dental implants placed in the lower jaw. This is referred to as an implant supported overdenture. This approach eliminates the need for dental adhesives, and many people find it boosts their confidence as well.
If you have questions about dentures, please contact us or schedule an appointment for a consultation. You can learn more in the Dear Doctor magazine articles "Removable Full Dentures" and "Implant Overdentures for the Lower Jaw."