Posts for tag: dental injury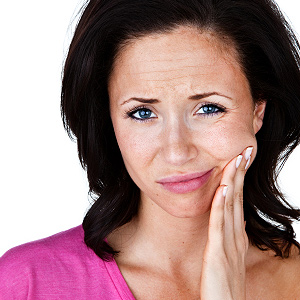 Although naturally resilient, your teeth still face some significant dangers. Tooth decay and gum disease, "enemies" within the mouth, can severely damage your teeth and eventually lead to their loss.
But there are also external dangers just as devastating — traumatic injuries that can happen in the blink of an eye. Fortunately, we can treat even the most serious of these injuries and increase the chances of an injured tooth's survival.
Here are some of those common dental injuries:
Chipped or Fractured Teeth. This is a case where a part of the tooth has been broken but it's still firmly rooted in the mouth. If small portions of the enamel or dentin (the next underlying layer of the tooth) have been chipped, we may be able to reattach them or fill the affected tooth area with a natural-colored filling (larger broken portions may require a complete crown). If the damage has injured or exposed the inner pulp, a root canal treatment might be in order to prevent infection and reduce pain.
Dislocated (Luxated) Teeth. A dislocation occurs when the impact moves the tooth in an abnormal way in the socket. We must first reposition the tooth and, if need be, stabilize it by splinting it to neighboring teeth. This type of injury may also require a root canal treatment.
Knocked out (Avulsed) Teeth. It's quite possible to replant a knocked out tooth — if you act quickly. Without touching the root, the tooth should be rinsed with cold, clean water and then placed into the empty socket within five minutes of the injury. If placement isn't possible, the tooth should be placed in a container with milk or with some of the injured person's collected saliva (to keep the root from drying out), and sent with the injured person to treatment. We need to see the injured person as soon as possible to make sure the tooth is repositioned properly and take other measures to protect it. We'll also need to monitor it for proper healing for awhile.
Although some injuries may be too severe to save a traumatized tooth, seeking immediate treatment certainly increases the chances for survival. If you or a family member experiences such an injury, keep calm and contact us immediately.
If you would like more information on treating dental injuries, please contact us or schedule an appointment for a consultation. You can also learn more about this topic by reading the Dear Doctor magazine article "Trauma & Nerve Damage to Teeth."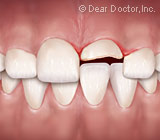 When a permanent tooth has been injured, our first priority should be to save it. A root canal treatment (where the interior pulp of the tooth is removed and the pulp chamber and root canals are filled and sealed) is usually the best approach for tooth preservation.
An immature permanent tooth, however, presents a different challenge. While the pulp is less essential to a mature tooth's vitality, it serves a critical purpose in the tooth's early development before early adulthood. The pulp produces layers of dentin necessary for the tooth's root system development. Completely removing the pulp at this stage may retard root development and cause the tooth to eventually weaken, and become brittle and darkened.
For younger teeth, we should therefore use alternative techniques that preserve as much healthy pulp as possible. One of these alternatives is Indirect Pulp Therapy, used when the pulp hasn't been exposed by the trauma. With this technique we remove as much damaged dentin as possible while preserving the harder dentin closer to the pulp. After applying an antibacterial agent to protect against infection, and then filling and sealing the tooth, the pulp can continue to produce dentin in a normal way.
If pulp exposure has occurred, some form of pulpotomy — the partial removal of any damaged or infected pulp — would be in order. Our goal here is to leave as much of the pulp as possible, and then apply substances that stimulate the remaining pulp to create dentin. The most common type of growth substances are calcium hydroxide or mineral trioxide aggregate (MTA).
If the pulp isn't at all salvageable, we may then turn to a procedure known as apexification. After removing the pulp we insert MTA at the root end of the tooth, then fill and seal the remaining interior as in a regular root canal treatment. The MTA will help the surrounding bone to heal and continue to grow around the root to further support the tooth.
Recent research into pulp stem cells promises further advances in this area. The regenerative qualities of stem cells could eventually help us "engineer" root development. Until then, there are still effective ways to give a young, damaged tooth a fighting chance to survive.
If you would like more information on preserving injured teeth, please contact us or schedule an appointment for a consultation. You can also learn more about this topic by reading the Dear Doctor magazine article "Saving New Permanent Teeth After Injury."